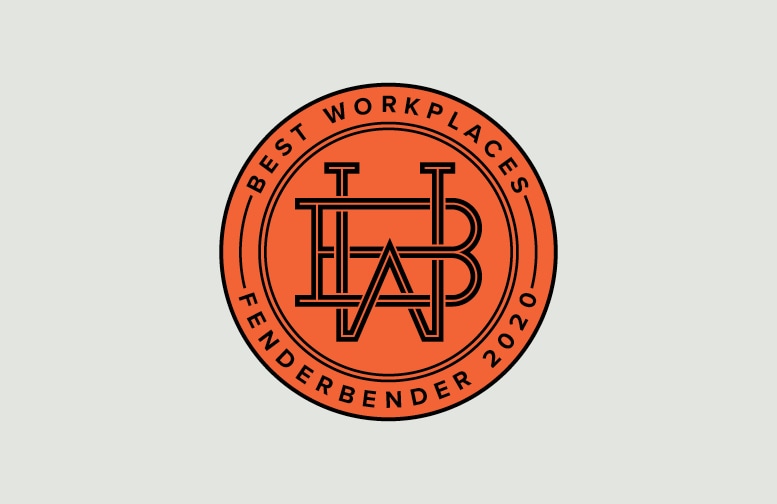 The Best Shop Cultures in America
If you want to set your shop apart amid 2020's competitive hiring climate, you need to get creative. On that note, in order to pinpoint the key elements needed to build a great workplace culture, FenderBender launched the first annual Best Workplaces initiative. The magazine's staff sifted through 100 submitted nominations of North American shops with the best workplace atmosphere, then chose one standout shop from four categories: facilities with 15 employees or less, 16-30 employees, 31-50 employees, and no less than 51 employees. 
These four standout collision repair facilities go above and beyond in helping to develop employees, both professionally and personally, to build a cohesive staff. In short, the award initiative was about finding the shops-regardless of size-that have built a unique, strong shop culture that every employee appreciates. 
Here are the key steps required to build a great staff culture. 
PROMOTE FROM WITHIN  
Chills sprint up DeWayne White's spine when he recalls a workplace incident from two years ago. 
During one of the wellness fairs hosted by his employer, White witnessed a co-worker get taken to the hospital. 
"It probably saved their life," White recalls. "Had a heart attack and just never went (to the doctor), but they caught it from this, and he ended up getting a stent. 
"I've been in the collision repair industry for 23 years and have never seen a company more dedicated to their people." 
Yes, the Tom Bush Family of Dealerships has little hesitancy about giving back to its employees, as its health and wellness program illustrates. The program also sponsors walking challenges, and "lunch-and-learns" about topics like nutrition and stress relief. 
The leadership of the Jacksonville, Fla.-area dealerships also displays compassion for its employees in another manner: by frequently promoting from within. When Tom Bush Collision Center needs a new employee, leaders like White, the dealership's collision director, look at their current staff before turning to any Internet jobs boards. 
Chief operating officer Telis Assimenios, who oversees the Florida dealership group's collision repair center, worked his way up through the company in a multitude of roles. Assistant collision center manager Christine Rand worked her way up from a receptionist role. Also, it's not uncommon for part-time porters to be encouraged to strive for a technician's role. 
That has clearly inspired the dealership body shop's staff, which has more than doubled the facility's annual revenue since 2011, producing nearly $6.5 million in 2019. 
"The morale and the culture can be attributed to the fact that we promote from within," White says. "You're building long term relationships, and (employees) know that you care." 
White says the body shop's leadership has an overall goal to consistently groom young employees to eventually step into larger roles when openings arise. The collision director's philosophy about promoting from within includes two key elements: 
Pinpoint employees' strengths. 
In order to promote an employee into a new, somewhat unfamiliar role, shop operators need to familiarize themselves with a staff member's work history. And, shop leaders need to learn about employees' interests and aspirations. 
When Rand was promoted from her receptionist role, for instance, the dealership's leaders took into account the fact that she had experience with accounting coming out of college. 
"You want to put employees in the best place possible," White says. "Christine had a financial and accounting background. That financial background, to be able to study numbers, to look at our financial statements and look for any abnormalities or successes, those were things that she demonstrated that brought her to that position." 
Gather input. 
These days, White constantly confers with shop leaders like Rand about employees that show energy, initiative, and promise. He also pays attention to the respect that promising employees garner from co-workers. 
Along those lines, White recently noticed an entry-level valet worker display rare hustle, and soon tried the young employee in a wheel reconditioning role. 
"It seemed to be a fit and a desire of his, and it fills a need for us," White notes. "And now he becomes a much bigger, more important part of the team." 
Ultimately, in order to build an exemplary staff culture, you have to make sure employees feel fulfilled, White says.
"We get positive feedback" about promoting from within, the collision director notes. "Especially from the higher-end employees like my painters and body techs that have been here a long time. They see it and they know that you're just building a stronger team."